Thirtymin
2018-03-01
Thirtymin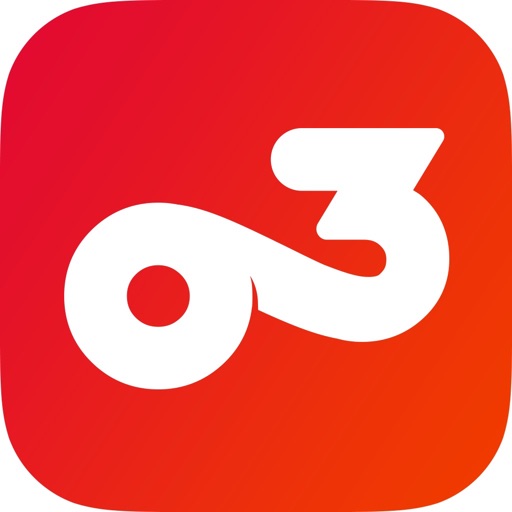 30-minute meetings with someone who matters.
Thirtymin is the simplest way to book a 30-minute meeting with anyone, anywhere.
You apply for a meeting with the host who is at the same location as you are. No introduction needed. If he picks you out of ten other applicants, you'll get to meet him in person.
With Thirtymin you can reach out to people who you wouldn't usually get in touch with personally. Nothing stops you to meet with a famous person or influencer, role model, an expert in your field of work, or someone who shares your interests.
Pitch an idea. Forge a friendship. Share a story. Learn what makes people tick.
So much could happen in 30 minutes.
Make it precious.
————
حان الوقت لتجتمع بالأشخاص الذين تتابعهم من فترة على وسائل التواصل الإجتماعي و تعتقد أن ما سيقدمونه لك سيؤثر إيجابيا في حياتك العملية
تطبيق ثيرتيمن هو تطبيق يتيح لمستخدميه عرض أوقات فراغهم ليتمكن الآخرون من حجزها
مع ثيرتيمن لا حاجة للبحث عن أصدقاء مشتركين للوصول إلى الأشخاص الذين ترغبون بالإلتقاء بهم
يستفيد من هذا التطبيق:
أصحاب المشاريع الصغيرة الذين يرغبون في الإلتقاء بمستثمرين
أصحاب البحوث والطلاب الذين يرغبون في الإلتقاء بالأساتذة في نفس مجال دراستهم أو بالشرائح المستهدفة
رجال الإعلام و الصحفيين الذين يرغبون في إجراء مقابلات أو حوارات صحفية
الذين يرغبون في أخذ الإستشارات القانونية أو الإدراية من مستشارين متخصصين
الباحثين عن وظائف ويرغبون في الوصول إلى مدراء الإدارات في الشركات الكبرى
قسم المبيعات الذي يرغب في الإلتقاء بعملاء جد
---
تحميل
السعر:Free
تنزيل أب [Thirtymin] @ إفون
---
تقييم في متجر اي تيونز
تقييم تطبيق إفون [Thirtymin] في إيتونس ستور
أحدث إصدار: (0 / 5)
جميع الإصدارات: (0 / 5)
عدد الأشخاص الذين تم تقييمهم:0
Price:Free
---
لقطات
لقطات من تطبيقات إفون [Thirtymin]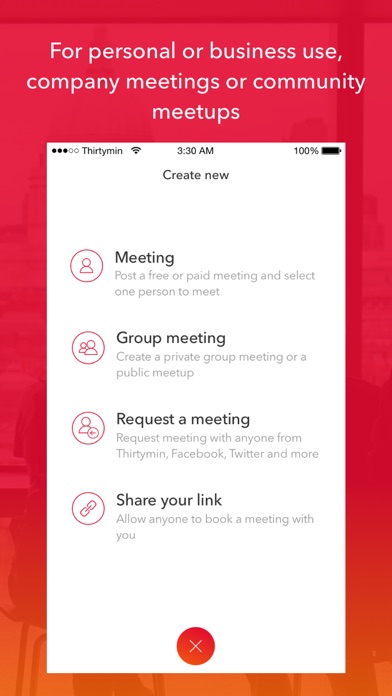 (c)Thirtymin FZ LLC
---
آراء الشعب
طباعة ومراجعة الناس إلى اي فون أب [Thirtymin]!
---
تغيير السجل
تحديث التاريخ من اي فون أب [Thirtymin]
REQUEST MEETING WITH ANYONE
Now you can request a meeting with anyone on Thirtymin, Facebook, Twitter, your address book or elsewhere. Found an interesting lead or business opportunity? Request a personal 1on1 meeting and start creating new opportunities.
SMART CALENDAR SYNC
Connect your favourite calendar and let Thirtymin find the best time for you to have a meeting.
VIDEO CALL MEETINGS
No need to travel far to meet someone, set up a video call meeting. Simply create a video call meeting or request a video call meeting with anyone, all you need is your phone and you're ready to go.
GROUPS AND GROUP MEETINGS
Whether you have friends you regularly meet with or run a local community meetup, you're part of a larger business network, or work at a large company and want to organise regular meetings within specific groups, Thirtymin can solve all this and much more. Try it out, create your first group, join existing or invite your friends and co-workers.
MORE NEW STUFF!
– We grouped people by their skills and interests and showing top 3 groups on the main screen.
– Now you can message anyone who has turned on messaging in their profile settings. This way you can reach out to people and chat with them before you set up a meeting 😉
– All new users get a quick help on what to do next when they launch the app for the first time
More great stuff coming in next update, stay tuned!
Enjoy your app!
We'd love to hear your feedback about this update. 
Get in touch with us at thirtymin.com/contact-us
Get updates on Twitter: @Thirtymin
Ride with us on Facebook: facebook.com/30app
(c)Thirtymin FZ LLC
تفاصيل
لديك ص [ Thirtymin span>] تفاصيل أخرى
مبيعات المصنع:


Thirtymin FZ LLC

تاريخ الإصدار:

2015-10-18

نص:

3.3.1

السعر:Free
تحميل
تنزيل أب [Thirtymin] @ إفون
---
مقالات الموصى بها بالنسبة لك، الذي اختاره منظمة العفو الدولية من جوجل (الذكاء الاصطناعي)!
---