Caption Snap
Caption Snap
People reviews
Impression and review of people to iPhone App [Caption Snap]!
---
Good to Have a Laugh at What you can Create ★★★★★
Good app ★★★★★
This is an AWESOME game! ★★★★★
Awesome App! ★★★★
Pretty good ★★★★
Isn't is about time you've seen what all the fuss is about.
See the App that is going nuclear on both facebook and twitter.
Create amusing captions for your photos
* Share your caption snaps to twitter and facebook
* Share your caption snaps with friends
* Save caption snaps in My Photos
* Add, edit and re-order your captions
* Choose background photo from My Photos
* Use camera to grab a photo
* See the Top 20 caption snaps from the comfort of the app
See world Caption Snaps here, http://www.flickr.com/groups/captionsnap/
* Change background colour
All rights reserved
---
Download
Price:Free
Download the[Caption Snap]@iPhone App
---
Evaluation at the itunes store
Evaluation of iPhone App [Caption Snap] at itunes store
newest version: (2.5 / 5)2.5
All versions: (2.5 / 5)

2.5
Number of people evaluated:99
Price:Free
---
ScreenShots
Screenshots of iPhone Apps [Caption Snap]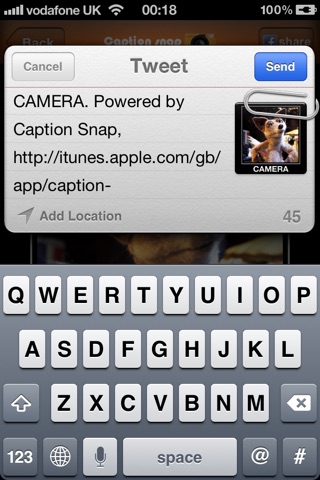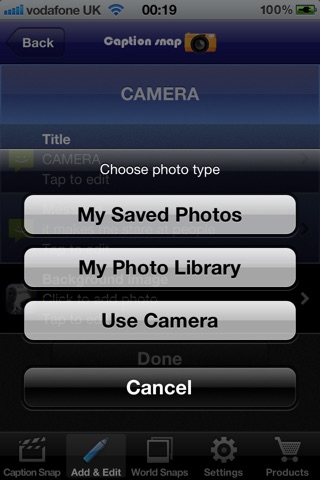 (c)William Alexander
---
Change log
Update history of iPhone App [Caption Snap]
Improved facebook and twitter sharing.
Annoying full screen ad removed.
Improved tips
(c)William Alexander
details
iPhone App [Caption Snap
] Other details
Sales maker:


William Alexander

Release date:

2011-02-15

Version:

1.2

Price:Free
Download
Download the[Caption Snap]@iPhone App
---
---