Curaçao Weather
Curaçao Weather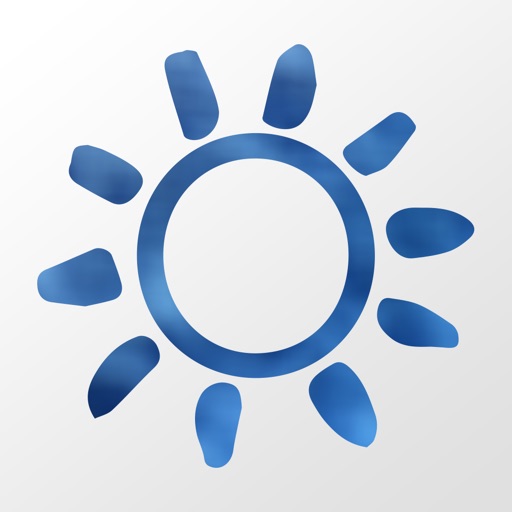 People reviews
Impression and review of people to iPhone App [Curaçao Weather]!
---
Curaçao Weather is the official weather app for the Dutch Caribbean island of Curaçao. Developed in cooperation with the Meterological Department of Curaçao (Meteo), it brings you first-hand and up-to-date information about current weather conditions and forecasts.
Highlights include: Current weather, updated every 30 minutes. Detailed textual summary and outlook. Five-day forecast. Up-to-date radar and satellite imagery. And much much more. All rounded off by stunning photography from the island.
Curaçao Weather is the must have app for everyone on the island — locals and visitors alike.
** PLEASE NOTE: By default, the app uses your system's settings to decide whether to show °C or °F. You can also override this in the Settings app. **
---
Download
Price:Free
Download the[Curaçao Weather]@iPhone App
---
Evaluation at the itunes store
Evaluation of iPhone App [Curaçao Weather] at itunes store
newest version: (4 / 5)4.0
All versions: (0 / 5)
Number of people evaluated:0
Price:Free
---
ScreenShots
Screenshots of iPhone Apps [Curaçao Weather]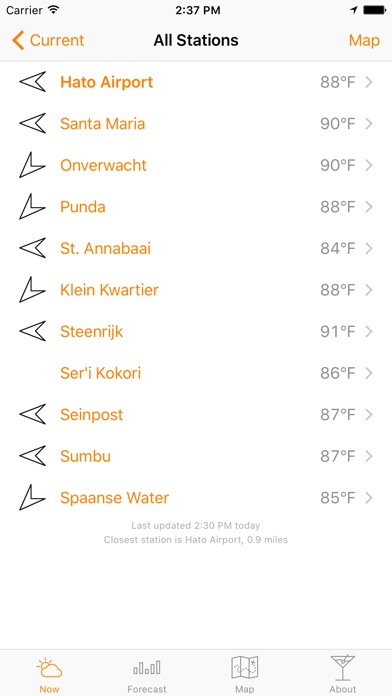 (c)RemObjects Software
---
Change log
Update history of iPhone App [Curaçao Weather]
New in Curaçao Weather 1.5 (1.5.127):
* Show impacts reported in the last 24 hours by other users on the map
* Indicate stations that have reported rain
* New icons for map view
* Improvements to navigation from map to stations and international locations
* Show pressure in Now view on large-display devices (iPad and iPhones Plus)
New in 1.4.117 and 1.4.115:
* Some minor text and UI changes
New in Curaçao Weather 1.4 (1.4.113):
* Report weather incidents back to Meteo from within the app
* Summary would sometimes incorrectly show a warning icon
New in 1.3.107:
* App would crash when sunset/sunrise time from server was badly formatted
* "Warning" table row did not look good/tall enough if text was only a single line
* Forecast view would sometime get stuck after pull-to-refresh
New in Curaçao Weather 1.3 (1.3.105):
* Show Code Pink and Orange
* Show Advisory details, if available
* Show indicator if a station had/has rain
* New "Heat Index" view
New in 1.2.91:
* iPad: selecting a station or international location on the map shows its details on the left
* Option to show international data on the map
* Location detection in Stations view was broken w/latest update
* Disclosure indicator did not show for station, if its temperature was "N/A".
New in Curaçao Weather 1.2 (1.2.87):
* Additional details (Humidity, UV Index) in summary
* UV Index detail/description view
* Improved Wind Direction icons
* The "Send Feedback" sheet would sometimes not dismiss
* Small visual tweaks all over
* Show version number in About view
New in 1.1.65:
* Minor display tweak for sunrise/sunset time
New in Curaçao Weather 1.1 (1.1.63):
* New "Winds" map overlays
* New full screen map view for iPad
* More info in Forecast view: rain probability; wave height; sunrise and sunset times and textual weather condition
* New "Curaçao Blue" theme
* Better clipping for long texts & large fonts
* Improved UI for choosing map and International weather options
* Better/more intuitive labels for International sort order options
New in 1.0.49:
* Option to show wind speed in knots
* Meteo logo on iOS splash screen
* Show "Rain"/"Clouds" in Map options for Radar/Satellite view
* Refresh UI if settings change
* Caching of International Data did not always work properly
(c)RemObjects Software
details
iPhone App [Curaçao Weather
] Other details
Sales maker:


RemObjects Software

Release date:

2016-06-01

Version:

1.5.127

Price:Free
Download
Download the[Curaçao Weather]@iPhone App
---
---