File Transfer, Send Big Videos, Share Photos from and to any Computer Fast and Safe by yooSEND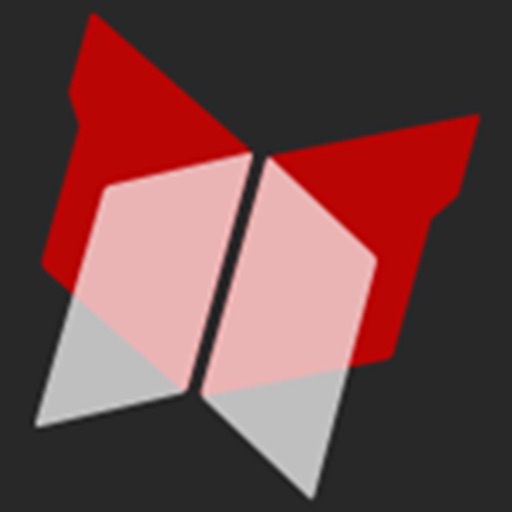 People reviews
Impression and review of people to iPhone App [File Transfer, Send Big Videos, Share Photos from and to any Computer Fast and Safe by yooSEND]!
---
Easy file transfer, share files of any type and size with yooSEND.
From iPhone, iPad or iPod to iPhone, iPad, iPod, PC, MAC OSX or any other mobile devices.
NEW: YOOSEND for iPhone and iPad is an accessible way to share your important HD movies, documents of all type, music and full-sized uncompressed photos.
Send photos, videos and documents straight from your device to your friends, send large files to anyone (using yooSEND), send/receive multiple files to/from multiple contacts at the same time.
How to use yooSEND in 3 easy steps:
To send:
1. Select as many files, docs, videos and photos from Local Files, Camera Roll or Dropbox
2. Select a contact (or more) and their device from Contacts
3. Tap send
To receive:
1. A notification will appear for incoming transfers
2. Tap the accept button
3. Open/View them in the Local Files folder
*******************************************
With YOOSEND, now it's easier than ever to:
*******************************************
• Simply create a new account using only your phone number
• Manage Browsing and Files
• Integrate Dropbox (send files directly from Dopbox, easier NOW with search option, no need to share link)
• Add your personal devices (tablets, smartphones, or any other computers and laptops)
• Is the first application that allows sending and receiving files simultaneously
• Send and receive multiple files to and from multiple users
• Select all type of files of any size from the Camera Roll, Dropbox or Local File and send them
• Accept files at any time you want (when you get home, office, or when you have a better connection to the Internet)
• Put your transfer on hold/resume/cancel
• Receive notification even when the application is closed (Push Notification feature)
• Send uncompressed files
• Enjoy fast download and upload speed / Live download and upload progress bar
• View documents/photos with following formats: .pdf, .doc, .xls, .ppt, .txt, .html, .rtf, .jpg, .gif, .png etc..
• Enjoy music playback of .aac, .mp3 and .m4a formats
• Enjoy video playback of .m4v, .mp4, .avi and .mov formats
• Download and send files in background
• Open your files in other apps
• NEW – Open your files from other apps in yooSEND
**************************************************************
YOOSEND is completely free with no advertising.
We are always excited to hear from you! If you have any feedback, ideas, or questions please email us at:
support@yoosend.com
or visit:
http://www.yoosend.com/
or follow us on:
Twitter – http://twitter.com/yooSEND
Facebook – http://facebook.com/yooSEND
Google+ – http://plus.google.com/+yooSENDcom
Youtube – http://www.youtube.com/yooSEND
**************************************************************
---
Download
Price:Free
Download the[File Transfer, Send Big Videos, Share Photos from and to any Computer Fast and Safe by yooSEND]@iPhone App
---
Evaluation at the itunes store
Evaluation of iPhone App [File Transfer, Send Big Videos, Share Photos from and to any Computer Fast and Safe by yooSEND] at itunes store
newest version: (2.5 / 5)2.5
All versions: (4 / 5)

4.0
Number of people evaluated:88
Price:Free
---
ScreenShots
Screenshots of iPhone Apps [File Transfer, Send Big Videos, Share Photos from and to any Computer Fast and Safe by yooSEND]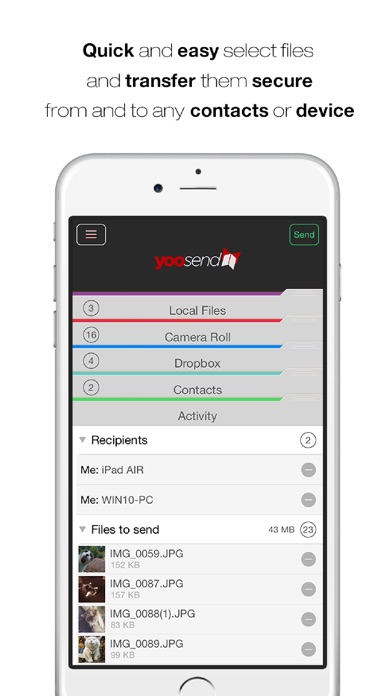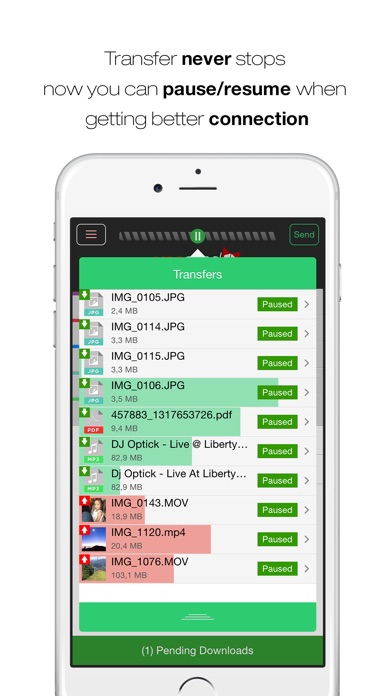 (c)YOOSEND LTD
---
Change log
Update history of iPhone App [File Transfer, Send Big Videos, Share Photos from and to any Computer Fast and Safe by yooSEND]
• yooSEND fixes and other UI improvements
• NOW the transfer is 10 times faster
• NEW – Open your files from other apps in yooSEND and send them fast and easy
• NOW you can search for files in Dropbox
• Quick select photos and videos from Camera Roll
• Increase file transfer speed
(c)YOOSEND LTD
details
iPhone App [File Transfer, Send Big Videos, Share Photos from and to any Computer Fast and Safe by yooSEND
] Other details
Sales maker:


YOOSEND LTD

Release date:

2014-01-08

Version:

2.1.1

Price:Free
Download
Download the[File Transfer, Send Big Videos, Share Photos from and to any Computer Fast and Safe by yooSEND]@iPhone App
---
---