Stupidness 2
Ranked #1 in 25 countries after 2 days release:
#1st in Free Apps (US)
#1st in Free Apps (UK)
#1st in Free Apps (Canada)
#1st in Free Apps (Australia)
#1st in Free Apps (Deutschland)
#3rd in Free Apps (France)
#1st in Free Apps (Hong Kong)
#1st in Free Apps (Singapore)
…
How high is your IQ?
How smart exactly are you?
Test your IQ level with the stupidness 2 game! Think and figure out your way quickly through the impossible stages!
Get your friends and family to try it out and have some laughs over it!
Features:
✚ ‶35 stimulating questions″
✚ ‶Hints provided (just in case)″
✚ ‶Fun for all ages″
✚ ‶Post your score on Facebook″
✚ ‶Simple yet addictive″
✚ ‶Get to know you IQ score based on how well you do″
❝Great game! Just quite impossible to pass! Bravo!❞
❝Stupidness Pro 2 would be a great game to pull out at your next party. No matter how old you are, you will find the questions silly, challenging, and somewhat mystifying. It is worth your money if you enjoy comedy and a little witty humor.❞ – AppAdvice.com
NOTE: If you can't pass the 3 candle stage, please turn off ZOOM setting under Settings > General > Accessibility > Zoom
❖❖❖❖❖❖❖❖❖❖❖❖❖❖❖❖❖
iTunes ranked Top 5 in over 30 countries!
World average rating of 4½✮
You won't want to miss this game, download now!
❖❖❖❖❖❖❖❖❖❖❖❖❖❖❖❖❖
---
Download
Price:Free
Download the[Stupidness 2]@iPhone App
---
Evaluation at the itunes store
Evaluation of iPhone App [Stupidness 2] at itunes store
newest version: (4.2 / 5)4.20967
All versions: (4.2 / 5)

4.2

Number of people evaluated:115830
Price:Free
---
ScreenShots
Screenshots of iPhone Apps [Stupidness 2]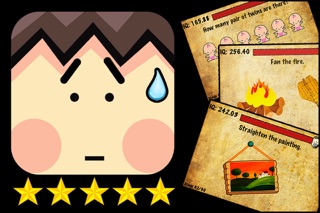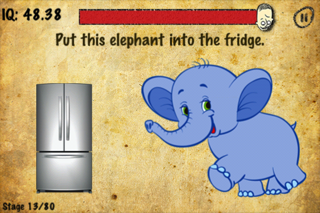 (c)Orangenose Studios
---
People reviews
Impression and review of people to iPhone App [Stupidness 2]!
---
Change log
Update history of iPhone App [Stupidness 2]
Minor bug fix.
NOTE: Replay the stages from MAIN MENU > SETTINGS
(c)Orangenose Studios
details
iPhone App [Stupidness 2] Other details
Sales maker:


Chien Ming Liang

Release date:

2011-04-11

Version:

1.1

OS:

iOS,iPhone,iPad

Price:Free
Download
Download the[Stupidness 2]@iPhone App
---