Adobe Spark Post
Adobe Spark Post
---
Adobe Spark Post è un'applicazione che consente di creare grafiche di grande impatto per tutte le occasioni in modo veloce e divertente. Inizia subito a realizzare i tuoi progetti con modelli accattivanti e dal design professionale che potrai adattare in pochi semplici passaggi. Seleziona una foto, aggiungi del testo e applica filtri di progettazione per creare all'istante splendide immagini. Con un semplice tocco potrai accedere a layout completamente nuovi, palette colore, stili tipografici e filtri fotografici: tutto senza bisogno di essere esperti designer. Condividi con facilità la tua grafica tramite le tue piattaforme social preferite, SMS o email per coinvolgere il pubblico.
Gli utenti affermano: ""Ha cambiato il mio business"", ""Soluzione perfetta per gli esperti di marketing"", ""Perfetta per le piccole aziende"" e molto altro!
"È uno strumento eccezionale per i titolari di piccole aziende, i docenti o semplici utenti esperti di social alle prese con problemi di progettazione che hanno bisogno di migliorare le loro abilità con la grafica per i social in modo rapido e gratuito." – Jarvis Grant, Examiner.com
ECCO LE FUNZIONALITÀ DI POST CHE APPREZZERAI:
◆ Inserimento di nuovi progetti riadattati — Iniziate in pochi secondi con design professionali creati ad-hoc
◆ Progettazione di Live Photos e Video animato — Trasformate facilmente le vostre creazioni in video animati
◆ Ridimensionamento per i social media — Ridimensionamento istantaneo per qualsiasi piattaforma do social media
◆ Tema — Applicate temi mozzafiato a testo e immagini con un singolo tocco
◆ Testo magico — Ridimensionate il testo — meravigliosi stili tipografici vengono applicati automaticamente
◆ Ricolorazione automatica — Con un solo tocco puoi cambiare l'intera combinazione cromatica del tuo progetto per farlo risaltare di più
◆ Forme e font attentamente selezionati — Una raccolta curata da grafici in cui troverai elementi adatti ad ogni occasione
◆ Foto gratuite esclusive — Accedi liberamente a mezzo milione di bellissime foto di alta qualità direttamente dall'app
◆ Condivisione immediata — Condividi il tuo post direttamente via Instagram, Twitter, email, SMS e in molti altri modi
ECCO I PROGETTI REALIZZATI DAGLI UTENTI:
• Inviti
• Grafica per newsletter
• Grafica aziendale
• Didascalie fotografiche
• Post sui social
• Annunci su Facebook
• Intestazioni e copertine per profili social
• Grafica per blog
E non solo!
HAI DOMANDE O RICHIESTE?
• Twitter: @AdobeSpark
• Facebook: https://facebook.com/AdobeSpark
• Instagram: @AdobeSpark
• E-mail: hellospark@adobe.com
• Supporto: https://adobespark@zendesk.com/
Se ti piace l'applicazione Spark Post, lascia e condividi una recensione positiva. Ci sarà davvero utile!
PIÙ SPAZIO DI ARCHIVIAZIONE (acquisto in-app facoltativo)
Se hai bisogno di più spazio di archiviazione oltre ai 2GB disponibili per l'archiviazione dei file Creative Cloud, puoi acquistare 20 GB aggiuntivi al costo di $ 1,99 (dollari USA) al mese. Il pagamento periodico verrà addebitato in automatico sul tuo account iTunes. Per interrompere il servizio, è sufficiente accedere alle impostazioni dell'account e disattivare il rinnovo automatico almeno 24 ore prima del termine del periodo di fatturazione. Non è disponibile il conteggio proporzionale: se il rinnovo automatico viene disattivato, il servizio rimarrà attivo fino al termine del periodo di fatturazione del mese corrente.
Termini e condizioni
L'utente deve aver compiuto almeno 13 anni ed è tenuto ad accettare le condizioni e l'informativa sulla privacy di Adobe, consultabili all'indirizzo http://adobe.ly/1pZBUWM. Per utilizzare le app mobile e i servizi online Adobe, è necessario richiedere un Adobe ID gratuito nell'ambito di un'iscrizione gratuita a Creative Cloud di livello base. Le applicazioni e i servizi online richiedono una connessione a Internet, non sono disponibili in tutti i paesi o in tutte le lingue e possono essere soggetti a modifiche o interruzioni senza preavviso.
---
Scaricare
Price:Gratis
Scarica il [Adobe Spark Post]@iPhone App
---
Valutazione presso il negozio iTunes
Valutazione di iPhone App [Adobe Spark Post] all'archivio iTunes
versione più recente: (5 / 5)
Tutte le versioni: (5 / 5)
Numero di persone valutate:1628
Prezzo:Gratis
---
ScreenShots
Immagini di iPhone Apps [Adobe Spark Post]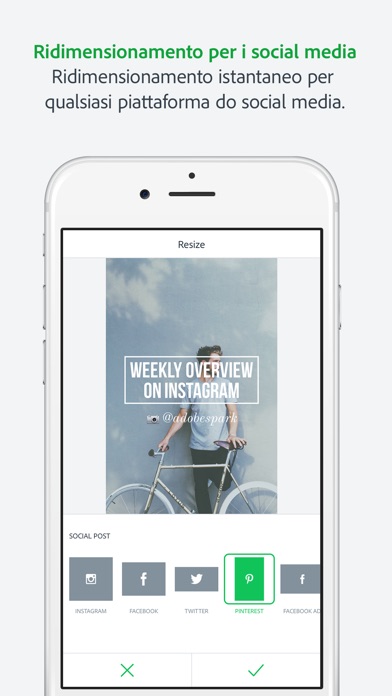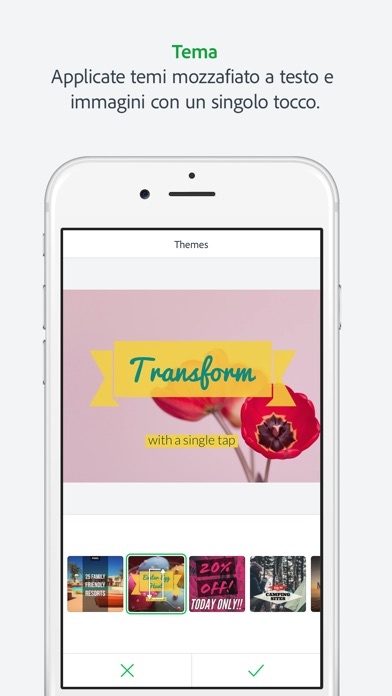 (c)Adobe
---
Recensioni della gente
Impressione e revisione delle persone in iPhone App [Adobe Spark Post]!
Cambiare il registro
Aggiorna la cronologia di iPhone App [Adobe Spark Post]
This week on Post, we're taking twinning to the next level.
That's right–you can now duplicate your text and transparent PNGs!
In case you only skimmed the note, let me duplicate that message for you: you can now duplicate your text and transparent PNGs!
We've also tweaked the UI a bit, fixed bugs and made everything run quicker and more smoothly.
Happy Posting!
@adobespark
(c)Adobe
dettagli
iPhone App [Adobe Spark Post] Altri dettagli
Produttore di vendite:Adobe Systems, Inc.
Data di rilascio:2015-12-17
Versione:4.3.0
Prezzo:Gratis
Scaricare
Scarica il [Adobe Spark Post]@iPhone App
---
---