Backgammon – Lord of the Board
Backgammon – Lord of the Board
---
Installa Backgammon – Lord of the Board
Sfida te stesso e gli altri a impadronirsi delle regole del backgammon in uno dei più popolari giochi da tavolo mai esistiti!
Dimentica tutto quello che sai dei giochi da tavolo e di altri giochi multiplayer. Backgammon – Lord of the Board è uno dei giochi gratis più competitivi e coinvolgenti che ci sia! La scarica di adrenalina che si ha vincendo tornei e salendo ai primi posti delle classifiche è semplicemente insuperabile. Vieni a far parte della nostra comunità di giochi multiplayer e inizia oggi stesso!
Tira i dadi&Unisciti al divertimento!
Tutti gareggiano con uno dei migliori giochi da tavolo gratis su iTunes! C'è chi lo chiama Nardi o Narde, Tavla o Tabla, ma le regole sono le stesse e il divertimento è universale. Sin dalle prime puntate, sia il giocatore principiante di backgammon che quello esperto entra nel vivo del gioco. Gioca gratis a backgammon dal vivo con migliaia di persone in tutto il mondo.
Diventa Maestro di Backgammon
Padroneggia questo gioco di dadi, acquista esperienza, guadagna monete e arriva al top come un vero vincitore! Divertiti con i nostri tornei di backgammon uno a uno e multiplayer. Sblocca contenuti nuovi ed elettrizzanti mentre procedi nel gioco del backgammon, passa al livello successivo e guida il tabellone. Sfida altri giocatori abili e vedi se hai la stoffa per vincere la gara e diventare Lord of the Board!
Investi nella Strategia
Quando giochi contro altri campioni di backgammon, ogni secondo conta! Raggiungi il tuo reale potenziale concentrandoti sulla tua strategia di gioco a backgammon e lascia regole e regolamenti all'app. Invece di perdere tempo a contare i passi, pianifica la mossa successiva e vinci in astuzia sull'avversario!
Ideato da Professionisti
Backgammon – Lord of the Board è offerto dai creatori di alcuni dei migliori giochi social online!
Divertiti con funzionalità fantastiche come:
• Grafica Attraente
• Gioco Facile e Divertente
• Sequenza di Gioco Elettrizzante
• Opzioni Chat
• Tornei dal Vivo
• Profili Statistici dei Giocatori
• Lancio di Dadi –Totalmente Casuale!(RNG Sofisticato)
• Tantissimi Bonus Gratis, Anelli, Trofei, Premi&Altro!
• Classifiche Competitive Uniche
Hai suggerimenti per il gioco? Contattaci a support@bbumgames.com.
Metti Mi Piace su Facebook per accedere a OFFERTE DI MONETE GRATIS! https://www.facebook.com/441503676034501/Divertiti
Questo gioco è pensato per un pubblico adulto e non offre gioco d'azzardo con soldi reali o qualsiasi opportunità di vincere soldi reali o premi. Avere successo in questo gioco non significa avere successo in futuro nel gioco d'azzardo con soldi veri.
---
Scaricare
Price:Gratis
Scarica il [Backgammon – Lord of the Board]@iPhone App
---
Valutazione presso il negozio iTunes
Valutazione di iPhone App [Backgammon – Lord of the Board] all'archivio iTunes
versione più recente: (4 / 5)
Tutte le versioni: (4,5 / 5)
Numero di persone valutate:355
Prezzo:Gratis
---
ScreenShots
Immagini di iPhone Apps [Backgammon – Lord of the Board]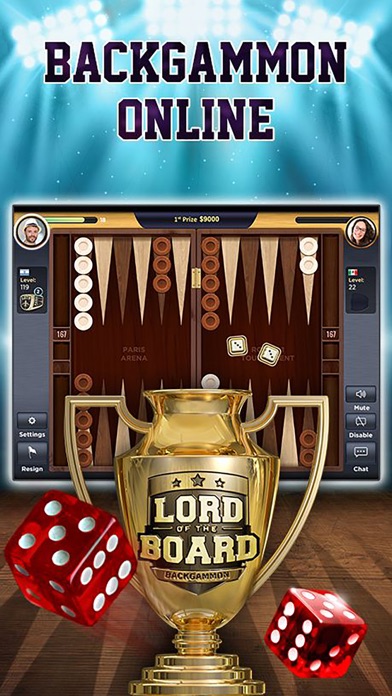 (c)Beach Bum Ltd
---
Recensioni della gente
Impressione e revisione delle persone in iPhone App [Backgammon – Lord of the Board]!
Cambiare il registro
Aggiorna la cronologia di iPhone App [Backgammon – Lord of the Board]
Hi Backgammon Fans!
This new version includes:
· Enhanced holiday graphic scheme
· Bug fixes
Enjoy! And here's to an amazing 2018!!
(c)Beach Bum Ltd
dettagli
iPhone App [Backgammon – Lord of the Board] Altri dettagli
Produttore di vendite:Beach Bum Ltd.
Data di rilascio:2016-08-30
Versione:4.10
Prezzo:Gratis
Scaricare
Scarica il [Backgammon – Lord of the Board]@iPhone App
---
---