Beat the Boss 3
Beat the Boss 3
---
Il tuo sogno si è realizzato. È tutta la vita che vuoi picchiare il tuo capo, ora finalmente puoi. I 50 milioni di download registrati fino a oggi dimostrano senza dubbio che questo è il gioco antistress preferito dagli utenti. Il tuo capo sa che tu stai giocando a questo gioco e non ci può fare nulla.
– Personalizza il tuo capo: il male si manifesta in diversi modi, tu puoi scegliere il tuo.
– Personalizza le armi: camuffamento o granata color champagne? Sei tu che decidi.
– Armi premium: più di 100 nuove armi letali e il tuo capo se la farà sotto.
– Simulazione fisica: per ottenere una reazione soddisfacente a tutti i tuoi intensi pestaggi.
– Battute divertenti: non farti troppe risate al lavoro
– Giro del mondo: gioca in meravigliosi palcoscenici realizzati a mano.
---
Scaricare
Price:Gratis
Scarica il [Beat the Boss 3]@iPhone App
---
Valutazione presso il negozio iTunes
Valutazione di iPhone App [Beat the Boss 3] all'archivio iTunes
versione più recente: (4 / 5)
Tutte le versioni: (4,5 / 5)
Numero di persone valutate:2087
Prezzo:Gratis
---
ScreenShots
Immagini di iPhone Apps [Beat the Boss 3]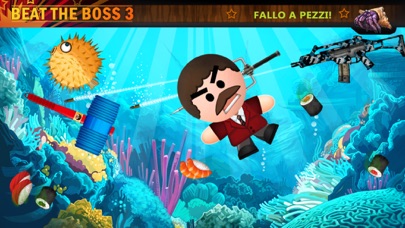 (c)Game Hive Corp.
---
Recensioni della gente
Impressione e revisione delle persone in iPhone App [Beat the Boss 3]!
Cambiare il registro
Aggiorna la cronologia di iPhone App [Beat the Boss 3]
– bug fixes
(c)Game Hive Corp.
dettagli
iPhone App [Beat the Boss 3] Altri dettagli
Produttore di vendite:Game Hive Corporation
Data di rilascio:2013-12-11
Versione:2.0.1
Prezzo:Gratis
Scaricare
Scarica il [Beat the Boss 3]@iPhone App
---
---