Chat anonima – AntiChat app
2018-01-21
Chat anonima – AntiChat app
---
Ruang chat keren. Pesan yang terhapus secara otomatis. Bicarakan tentang segalanya dengan orang asing. Bertemu dan bertanya pada wajah-wajah baru. Condividi segreti o inganna semplicemente il tempo. Nessuno ti giudicherà, dato che nessuno potrà scoprire il tuo vero nome.
Funzionalità di riservatezza dell'App:
⁃ nessun nome
⁃ nessuna cronologia
⁃ nessuna pubblicità
⁃ niente spam
⁃ nessun bot
⁃ nessuna violenza
La migliore applicazione di chat anonima con oltre 1.600.000 persone online che incontrano nuovi amici, confidandosi o cercando partner per appuntamenti online. L'applicazione è scaricabile e utilizzabile gratuitamente.
Quando ti senti solo o annoiato, l'app Anti Chat ti è accanto permettendoti di fare quanto segue:
– Esprimere la tua identità segreta nelle chat room anonime senza registrazione
– Non temere nessun giudizio grazie ai messaggi che si autodistruggono
– Incontrare persone nuove e stringere legami sui social network nelle comunità britanniche, statunitensi, indiane, australiane , canadesi, asiatiche, arabe, russe, francesi, tedesche
– Incontrare e frequentare ragazzi e ragazze nelle chat room scolastiche per adolescenti maggiorenni
– Presentarti in chat room per lesbiche o di appuntamenti per homosessuali se ti piace flirtare con persone del tuo stesso sesso
– Trovare single ultra trentenni per relazioni serie e discreti appuntamenti online per adulti
– Giocare a obbligo o verità usando testo o foto
– Unirti a giochi di ruolo testuali con single, se ti senti annoiato
– Aprire sezioni chat di successo e unirti a centinaia di room per conoscere nuove persone flirtando
– Leggere segreti resi pubblici e condivisi da migliaia di informatori anonimi
– Condividere la tua esperienza sessuale nelle confessioni
In aggiunta ad una grande varietà di chat room in inglese, dovresti anche provare l'opzione "chat casuale" sulla pagina principale e trascorrere un po' del tuo tempo chiacchierando con estranei scelti a caso. Troverai diversi tipi di persone: ricchi uomini d'affari, ragazze ed eccitanti, donne sposate, lesbiche, maliziosi gay, incalliti giocatori di ruolo, affascinanti signore, studenti adolescenti, stranieri amichevoli, single asiatici, neri, caucasici, ecc. Messaggia con quelli che ti piacciono e blocca quelli che non desideri.
Inoltre puoi porre domande online in forma anonima su qualsiasi argomento e ricevere risposte da parte della competente comunità. Cerchiamo di essere tutti sinceri e scopriamo nuove confessioni!
Norme comuni per tutte le chat anonime:
– Gli adolescenti minorenni (meno di 17 anni) non sono autorizzati a scaricare o a utilizzare questa applicazione
– Tutte le chat internazionali e private devono rimanere libere da trolling, bullismo e istigazione. Se incontri qualche contenuto sospetto, premi l'avatar del suo autore e quindi su «Reclama»
– Le personalità etero possono essere escluse dalle chat contrassegnate come "solo per lesbiche" o "solo per gay", così come gay e lesbiche possono essere escluse dai luoghi "solo per etero"
– Questa applicazione può essere utilizzata per chattare in modo casuale con estranei, ma lo scambio di nudi con persone che non conosci è limitato poiché queste potrebbero sentirsi offese
– Gli adulti eccitati non sono invitati a utilizzare questa applicazione a scopo di sexting, poiché potrebbero essere verosimilmente esclusi dal sistema per la condivisione inappropriata di contenuti sessualmente espliciti con gli estranei durante i giochi di ruolo testuali
– Per garantire la tua sicurezza è fatto divieto di citare qualsiasi dato personale, incluse altre applicazioni di social networking o di incontri
– Attenetevi al General User Agreement: http://antichat.me/it/useragreement.htm
Sei pronto a iniziare a conoscere nuove persone online, a divertirti e a passare il tempo? Scarica la nostra più bella applicazione ora!
Domande frequenti: http://antichat.me/it/tutorial.htm
Clausole di Riservatezza su http://antichat.me/it/confidential.htm
---
Scaricare
Price:Gratis
Scarica il [Chat anonima – AntiChat app]@iPhone App
---
Valutazione presso il negozio iTunes
Valutazione di iPhone App [Chat anonima – AntiChat app] all'archivio iTunes
versione più recente: (4 / 5)
Tutte le versioni: (4 / 5)
Numero di persone valutate:5015
Prezzo:Gratis
---
ScreenShots
Immagini di iPhone Apps [Chat anonima – AntiChat app]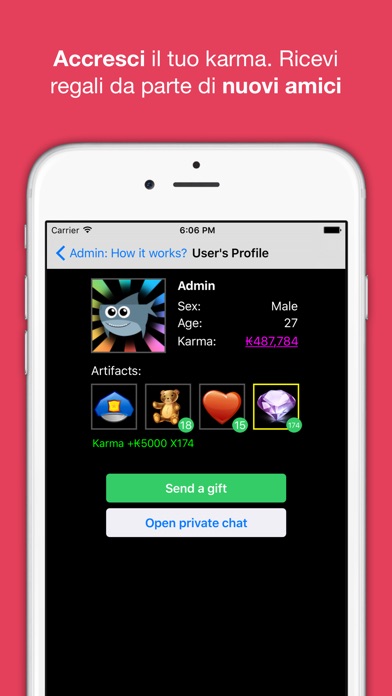 (c)AntiChat, Inc.
---
Recensioni della gente
Impressione e revisione delle persone in iPhone App [Chat anonima – AntiChat app]!
Cambiare il registro
Aggiorna la cronologia di iPhone App [Chat anonima – AntiChat app]
1) Increased performance for iOS 7 and older iPhones
2) Block function now gives you even more privacy; block a user from a private chat (Profile->Block), from a Group chat (Profile->Report->Block)
3) Founders and moderators of chat rooms have a new menu: press any message in a chat room you control to Report/Ban messages easily
4) Delete any of your messages in a private chat by long pressing it -> Delete
5) Improved spam protection and security:
– new private chats allow the founder to describe the reason for a chat in 1 message
– the receivers of the new chats have an option to easily accept, report and delete the chat in a pop up menu
6) People section works faster
7) People section recovers part of the contacts if installing the app on a different device
(c)AntiChat, Inc.
dettagli
iPhone App [Chat anonima – AntiChat app] Altri dettagli
Produttore di vendite:AntiChat, Inc.
Data di rilascio:2015-03-16
Versione:3.9.1
Prezzo:Gratis
Scaricare
Scarica il [Chat anonima – AntiChat app]@iPhone App
---
Articoli consigliati per te, scelti dall'IA di Google (intelligenza artificiale)!
---