Clash of Kings – CoK
Clash of Kings – CoK
---
Conquista regni e villaggi in Clash if Kimgs – Last Empire, un nuovo gioco di guerra multiplayer RTS RPG che contrappone il tuo esercito contro amici e nemici di tutto il mondo, in una battaglia per la conquista di villaggi e città. Possiedi ciò che è necessario per schierarsi insieme agli altri signori e guidare il tuo esercito?
Sei pronto ad unirti a migliaia di altri clan in una guerra per il controllo dei regni? Costruisci il tuo esercito, combatti i nemici e gestisci le risorse della tua città, per diventare uno dei più potenti signori tra tutti in Clash if Kings – Last Empire!
Costruisci la tua città e preparati all'azione
– Non saprai mai quando sarà il momento della battaglia contro gli altri clan. Il tuo villaggio dovrà ospitare un esercito potente e difendersi bene nelle battaglie. Costruisci la tua città e potenzia castello, fortezza, centro d'addestramento, ospedale e gli altri edifici, per difenderti nelle battaglie multiplayer contro altri giocatori (PVP) o gli improvvisi attacchi nemici del sistema (PVE). Sarai pronto per entrare in azione?
Guerre multiplayer online contro altri giocatori (PVP)
– Non sei il solo a costruire un impero! Gioca PVP online contro migliaia di altri giocatori nel miglior gioco di strategia real time MMO. Costruisci il tuo villaggio per contrastare le razzie. Invia il tuo esercito contro le altre città. Raccogli le loro risorse e conquista il loro impero.
Costituisci con gli altri forti alleanze
– Costituisci alleanze con gli altri signori e leaders del mondo. Clash of Kings – Last Empire è un gioco online RTS MMO RPG che ti designa come leader del tuo esercito. Entra nelle alleanze per aiutare te stesso e gli altri. Collabora con gli altri leader di eserciti per costruire città, potenziare gli edifici o combattere gli eserciti nemici. In questo gioco di strategia real time, le tue alleanze sono fondamentali.
Strategia real time e gestione delle risorse
– Un esercito forte necessita di ricovero e cibo. Costruisci fattorie e segherie per produrre le risorse necessarie a rinforzare la tua città ed il tuo esercito. Guadagna monete per ogni compito eseguito e risorse da ogni raccolto. Costruisci le difese della tua città grazie ai tuo i raccolti.
Più farai crescere il tuo impero, più nemici ti creerai. Gli altri clan di nemici tenteranno di distruggere la tua città e il tuo potere, in questo gioco di guerra RTS PVE PVP MMO. Dovrai essere sempre pronto per l'azione, nelle marce in battaglia del tuo esercito, per proteggere il tuo territorio o per conquistare quello di altri.
Sei pronto per diventare il leader del tuo villaggio? Comincia a costruire il tuo impero e a guidare il tuo esercito oggi, nelle epiche battaglie di strategia multiplayer di Clash of Kings – Last Empire!
Il prezzo dei servizi con sottoscrizioni è di € 4,99, ed ha una durata di 30 giorni. Dopo l'acquisto, i giocatori potranno ottenere privilegi esclusivi come segue:
1. Velocità di costruzione + 10%
2. Velocità di ricerca + 10%
3. Attacco truppe +5%
4. Difesa truppe +5%
Nota che:
1. Il pagamento sarà addebitato sul tuo account iTunes alla conferma dell'acquisto.
2. L'abbonamento si rinnova automaticamente a meno che il rinnovo automatico non viene disattivato almeno 24 ore prima della fine del periodo in corso.
3. Il tuo account verrà addebitato del costo per il rinnovo entro 24 ore prima della fine del periodo in corso.
4. Le sottoscrizioni possono essere gestite dall'utente ed il rinnovo automatico può essere disattivato andando alle tue Impostazioni account dopo l'acquisto.
Privacy e Condizioni di utilizzo si prega di consultare: http://elex-tech.com/Index/privacy
---
Scaricare
Price:Gratis
Scarica il [Clash of Kings – CoK]@iPhone App
---
Valutazione presso il negozio iTunes
Valutazione di iPhone App [Clash of Kings – CoK] all'archivio iTunes
versione più recente: (0 / 5)
Tutte le versioni: (4 / 5)
Numero di persone valutate:2307
Prezzo:Gratis
---
ScreenShots
Immagini di iPhone Apps [Clash of Kings – CoK]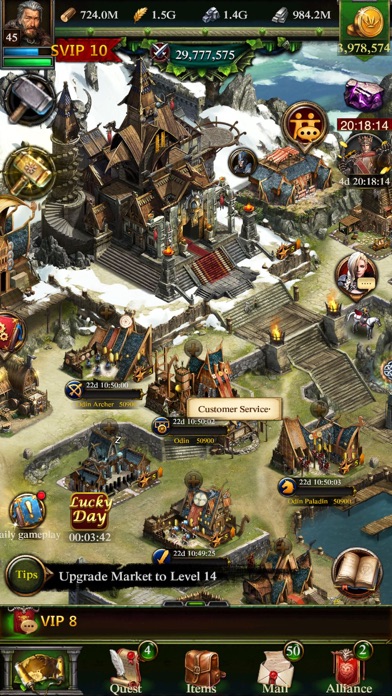 (c)ELEX Wireless
---
Recensioni della gente
Impressione e revisione delle persone in iPhone App [Clash of Kings – CoK]!
Cambiare il registro
Aggiorna la cronologia di iPhone App [Clash of Kings – CoK]
Hero Recruitment Starts
New hero recruitment function including common recruitment and advanced recruitment is available in the hero palace. You can get a complete hero and hero recruitment card through recruitment
Announce
Military Rank Redeem Available
New item is available in rank store including mars set, fine iron and legendary material
New skill is available in rank store including increasing infantry skill attack chance, increasing the power in mine, conquest, dragon campaign and ancient battlefield
Customization Store Optimization
Optimize the gift package
Display area supports all the customization in the ""Gift Package ""
(c)ELEX Wireless
dettagli
iPhone App [Clash of Kings – CoK] Altri dettagli
Produttore di vendite:ELEX Technology Holdings Co., Ltd.
Data di rilascio:2014-12-30
Versione:3.24.0
Prezzo:Gratis
Scaricare
Scarica il [Clash of Kings – CoK]@iPhone App
---
---