Family Guy The Quest for Stuff
Family Guy The Quest for Stuff
---
Dopo un'altra battaglia epica con il pollo gigante, Peter Griffin ha accidentalmente distrutto Quahog! Gioca GRATIS e riunisci i tuoi personaggi preferiti (anche Meg) per salvare la città in un'esilarante nuova avventura dagli autori de I Griffin. Oppure non fare nulla, e te ne pentirai per sempre!  
CONTENUTO ESCLUSIVO SOLO SU APP STORE: Gioca a "Pazzi per l'oro", la missione per aiutare Peter a realizzare il suo sogno e diventare ricco sfondato! SOLO disponibile per i giocatori di iPhone, iPad e iPod Touch!
Caratteristiche di gioco:
• È gratis! Maledettamente gratis? Figata!
• Crea una Quahog che vive sulle tue misure di pantaloni
• Sblocca abiti divertenti per i personaggi come Peter Sirena, Quagmire Bikini-Clad, e  Rambo Lois
• Obbliga i personaggi a intraprendere missioni ridicole  
• Tieni Quahog al sicuro da pirati, polli cattvi, e altre invasioni
• Crea la tua città a misura di Peter con decorazioni come "il Peterottero, il Peterodattilo, e il Peterdove"
• Sblocca centinaia di animazioni nuove di zecca e classiche
PS: È possibile giocare a questo gioco in francese, italiano, tedesco, spagnolo, russo e portoghese brasiliano!
Nota: Questo gioco offre acquisti in-app, che possono essere disattivati dalle impostazioni del dispositivo. Consultare http://support.apple.com/kb/HT4213 per ulteriori informazioni
---
Scaricare
Price:Gratis
Scarica il [Family Guy The Quest for Stuff]@iPhone App
---
Valutazione presso il negozio iTunes
Valutazione di iPhone App [Family Guy The Quest for Stuff] all'archivio iTunes
versione più recente: (5 / 5)
Tutte le versioni: (4 / 5)
Numero di persone valutate:4438
Prezzo:Gratis
---
ScreenShots
Immagini di iPhone Apps [Family Guy The Quest for Stuff]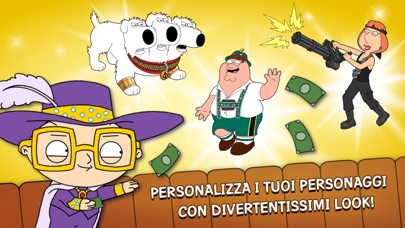 (c)TinyCo, Inc.
---
Recensioni della gente
Impressione e revisione delle persone in iPhone App [Family Guy The Quest for Stuff]!
Cambiare il registro
Aggiorna la cronologia di iPhone App [Family Guy The Quest for Stuff]
Peter e Lois stanno per aprire un camion ristorante! Ma una litigata tra loro due e la successiva competizione per far uscire l'altro dagli affari distruggerà la loro famiglia?
Servi i piatti richiesti ai clienti affamati!
Consulta i guru culinari come Guy Fieri!
Si va dalla padella alla brace quando ci sono "Troppi Griffin in cucina"!
(c)TinyCo, Inc.
dettagli
iPhone App [Family Guy The Quest for Stuff] Altri dettagli
Produttore di vendite:TinyCo, Inc.
Data di rilascio:2014-04-10
Versione:1.65.5
Prezzo:Gratis
Scaricare
Scarica il [Family Guy The Quest for Stuff]@iPhone App
---
---