FlowVella App di Presentazione
FlowVella App di Presentazione
---
Flowboard è un'app che permette di raccontare storie ed effettuare presentazioni. Chiunque potrà creare presentazioni scorrevoli con immagini, testo, video, file PDF, collegamenti e gallerie fotografiche. Se hai una storia da raccontare, un'idea da condividere o una presentazione da effettuare, Flowboard ti permetterà di fare tutto con il tuo iPad o condividere con altri dispositivi. I flowboard sono divertenti, pieni di stile e bellissimi.
Con Flowboard puoi creare storie complete sul tuo iPad usando pochi semplici tocchi e gesti. Tocca foto e video per metterli al posto giusto, usa PDF, inserisci testo e crea link per la navigazione. Flowboard si connette alle tue foto, ai tuoi video, al contenuto del cloud o alla ricerca di immagini su Google direttamente dall'app. Con la nostra raccolta di template potrai creare incredibili presentazioni, album, cataloghi, libri fotografici o qualsiasi cosa tu voglia in poco tempo. Condividi l'URL del flowboard, così chiunque abbia un iPad o un dispositivo con connessione Internet potrà vedere le tue creazioni.
Visit http://flowboard.com!
FlowVella is free to download and use and comes with the ability to post 4 public flows. For extended functionality and more features, FlowVella has two paid plans, Premium and PRO. Premium is available through an auto-renewing subscription for $4.99/month or $49.99/year and PRO is $19.99/month or $199.99/year.
Premium allows for more privacy options, more screens and unlimited flows.
PRO unlocks Kiosk Mode and other features for professional use.
Subscriptions will be charged to your credit card through your iTunes account. Your subscription will automatically renew unless cancelled at least 24-hours before the end of the current period. You will not be able to cancel a subscription during the active period. Manage your subscriptions in Account Settings after purchase.
FlowVella Terms:http://bit.ly/FlowVTOS
Formerly known as Flowboard
---
Scaricare
Price:Gratis
Scarica il [FlowVella App di Presentazione]@iPhone App
---
Valutazione presso il negozio iTunes
Valutazione di iPhone App [FlowVella App di Presentazione] all'archivio iTunes
versione più recente: (0 / 5)
Tutte le versioni: (4 / 5)
Numero di persone valutate:43
Prezzo:Gratis
---
ScreenShots
Immagini di iPhone Apps [FlowVella App di Presentazione]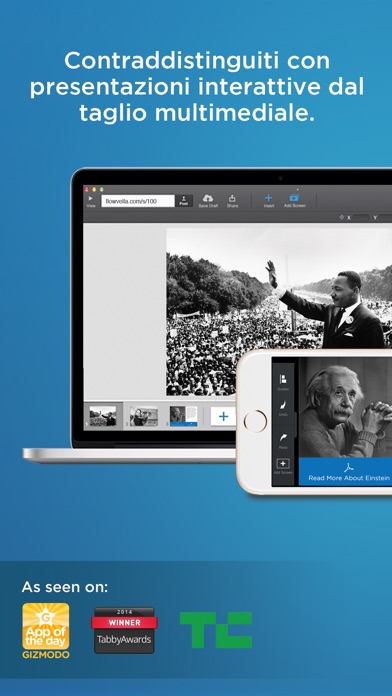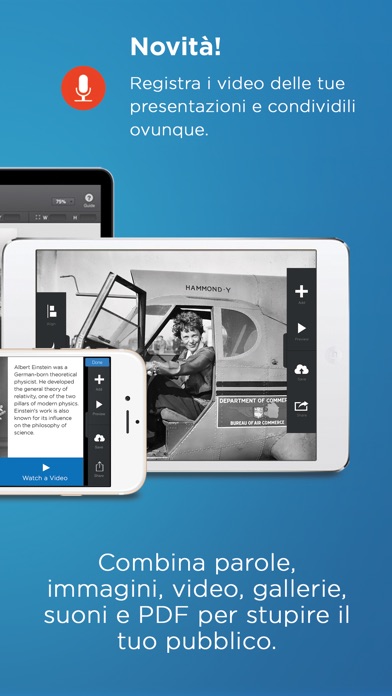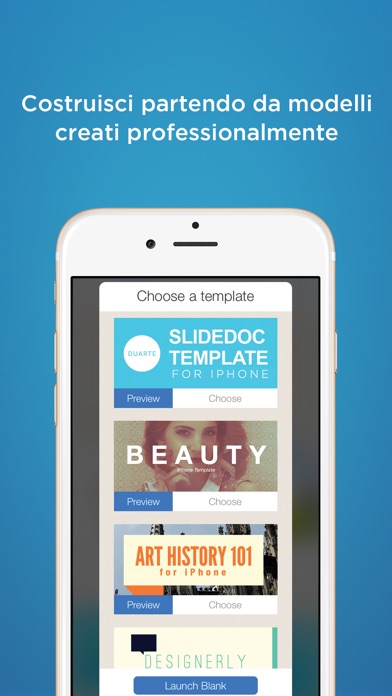 (c)Flowboard
---
Recensioni della gente
Impressione e revisione delle persone in iPhone App [FlowVella App di Presentazione]!
Cambiare il registro
Aggiorna la cronologia di iPhone App [FlowVella App di Presentazione]
We have been busy and for a while. We made a lot of user interface improvements and we added one huge feature!
Integrated Zoom Video Communications into FlowVella
– You can start or join Zoom meetings, and you can share your Flow and broadcast from anywhere.
New design of key screens including a completely redesigned main 'flow edit' screen
Added delete and copy buttons. Removed 'delete' from Catalog screen.
Removed commenting and liking buttons on 'My Flows, Saved and Examples'
Library changed to 'Saved' with new icon
Catalog changed to 'Examples' with new icon
– Enterprise or PRO Catalog icon stays the same
Implemented rounded rectangles everywhere
Kiosk Mode button now launches a popover with newer design and 'go' button that launches Flow in Kiosk mode
New 'avatar' icon
New 'menu' icon
New new user help screens
Updated design of web viewer with larger tab bar and larger icons
Fixed web viewer so users can't launch Safari (exit the app) while in Kiosk Mode
New upgrade pages
Fixed issue where image or text would be repeated while making a link
Updated several words for localization.
Fixed issue where iOS 9 users would crash when recording video.
Fixed issue where Forms saved to Dropbox wouldn't create the file, only add to an existing one.
Some iPhone X support with more to come soon.
Please send us your feedback to support at flowvella.com.
Please update your review and rating, it helps us greatly.
Thank you so much for your support as we continue to innovate and make FlowVella better and better.
(c)Flowboard
dettagli
iPhone App [FlowVella App di Presentazione] Altri dettagli
Produttore di vendite:Flowboard LLC
Data di rilascio:2013-04-18
Versione:5.52
Prezzo:Gratis
Scaricare
Scarica il [FlowVella App di Presentazione]@iPhone App
---
---