Horizon Camera
Horizon Camera
---
Nominata da Engadget, TechCrunch, The Next Web, Gizmodo, Wired, AppAdvice, Cult of Mac, TUAW e presente nella sezione di Apple dedicata alle app più sorprendenti per foto e video!
«Vorremmo solo che Apple e Google lo integrassero di default». – Engadget
«Un'app geniale, attesa a lungo, per fare video sempre in orizzontale». – Gizmodo
«Fatevi questo favore: provate la nuova app Horizon per iOS». – AppAdvice
«Horizon risolve il problema più fastidioso dei video con gli smartphone». – WIRED
«Horizon eliminerà per sempre i video in modalità ritratto». – TUAW
«Horizon per iOS significa mai più video in verticale». – The Next Web
______________________________
Con Horizon puoi girare video e scattare foto in formato orizzontale indipendentemente da come impugni il dispositivo. Puoi tenerlo in verticale, storto, addirittura ruotarlo mentre filmi: il filmato o l'immagine sarà sempre in orizzontale! Puoi aggiungere filtri, filmare con la fotocamera posteriore o anteriore, e condividere le tue creazioni!
Ti capita mai di dover ruotare lo smartphone o il tablet mentre fai un video? Finisci mai per avere video in verticale o storti? Scarica Horizon!
Horizon fa magie! Orienta automaticamente le foto e i video mentre filmi usando il giroscopio del dispositivo. L'orientamento finale è corretto in modo che sia sempre parallelo al terreno.
Con Horizon puoi dire addio alla sindrome dei video verticali! Sì, perché ora puoi filmare in orizzontale anche se tieni lo smartphone o il tablet in modalità ritratto!
▶ Fai video e foto in orizzontale
▶ Diverse risoluzioni, tra cui VGA, HD, Full HD e persino 4K!*
▶ Supportati 60 e 120 FPS (slow motion)*
▶ Tre modalità di inquadratura: Flexy, Ruota e Blocco
▶ Tocca e tieni premuto per rallentare i video in 120 FPS!
▶ Zoom senza perdita di qualità con le nuovissime risoluzioni "Crisp"!*
▶ Duplicazione AirPlay mentre filmi
▶ Vari rapporti d'aspetto (formato quadrato 1:1, panoramico 16:9, standard 4:3)
▶ Fai video e foto con la fotocamera anteriore o posteriore
▶ Otto divertenti filtri tra cui scegliere
▶ Libreria video con comoda selezione
▶ Condividi le tue creazioni sul tuo social network preferito
▶ Apri i video su altre app
▶ Seleziona la qualità video per risparmiare memoria (alta, media, bassa)
▶ Geotagging
▶ Blocco AE/AF
* https://horizoncamera.zendesk.com/hc/en-us/articles/202388411
---
Scaricare
Price:Gratis
Scarica il [Horizon Camera]@iPhone App
---
Valutazione presso il negozio iTunes
Valutazione di iPhone App [Horizon Camera] all'archivio iTunes
versione più recente: (3 / 5)
Tutte le versioni: (4 / 5)
Numero di persone valutate:55
Prezzo:Gratis
---
ScreenShots
Immagini di iPhone Apps [Horizon Camera]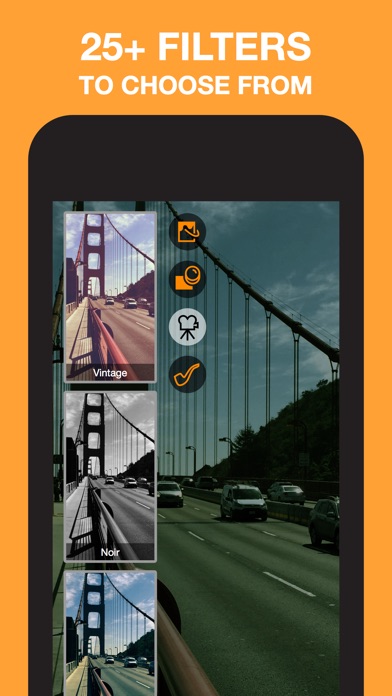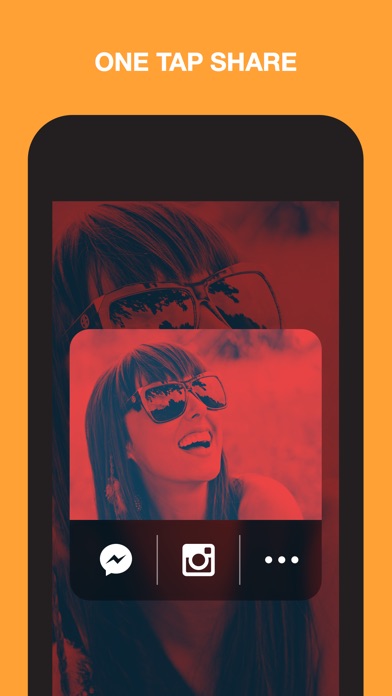 (c)Horizon Video Technologies
---
Recensioni della gente
Impressione e revisione delle persone in iPhone App [Horizon Camera]!
Cambiare il registro
Aggiorna la cronologia di iPhone App [Horizon Camera]
4.3
* Several bug fixes
4.0
* Added support for telephoto, dual lens of iPhone Plus and iPhone X devices
* Supports iPhone X form factor
* Adds pinch to zoom!
* On a Plus or X device, you can easily toggle between the wide and the telephoto lens with just a tap
* Fixed numerous UI issues (on fast switcher, on video library)
* Fixed an issue with the video extension not centering the video properly
* Added iOS 11 support
* Fixed an issue when taking photos with HDR enabled
* Fixed a UI issue regarding the video playback slider on Horizon library
* Numerous bug fixes and performance optimizations
(c)Horizon Video Technologies
dettagli
iPhone App [Horizon Camera] Altri dettagli
Produttore di vendite:Horizon Video Technologies Inc.
Data di rilascio:2014-01-14
Versione:4.3
Prezzo:Gratis
Scaricare
Scarica il [Horizon Camera]@iPhone App
---
---