Kik
2018-01-19
Kik
---
Con Kik puoi chattare come piace a te!


• Non servono numeri di telefono, bastano i nomi utente.

• I filtri ti consentono di decidere con chi vuoi parlare.

• Meme, foto divertenti, news su personaggi famosi, video, gif… puoi condividere quello che preferisci.

• Inizia un gruppo di chat pubblico che può comprendere fino a 50 persone con un semplice #hashtag. Oppure crea un gruppo privato.


Oltre 200 milioni di persone usano Kik per stare in contatto con gli amici, in qualunque modo li abbiano conosciuti – a scuola, tramite una app sociale, oppure durante un gioco online. Basta chiedere: "What's your Kik?"
---
Scaricare
Price:Gratis
Scarica il [Kik]@iPhone App
---
Valutazione presso il negozio iTunes
Valutazione di iPhone App [Kik] all'archivio iTunes
versione più recente: (4 / 5)
Tutte le versioni: (4 / 5)
Numero di persone valutate:5966
Prezzo:Gratis
---
ScreenShots
Immagini di iPhone Apps [Kik]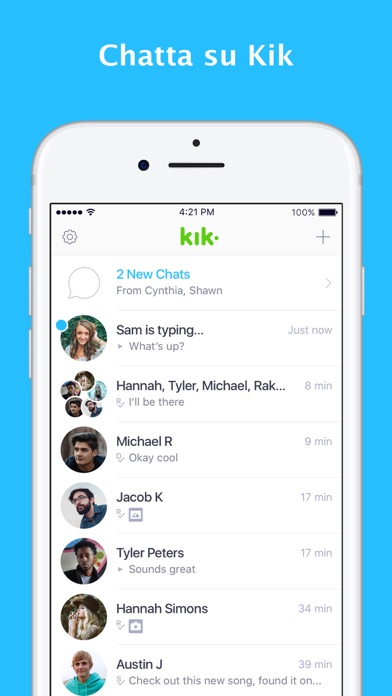 (c)Kik Interactive Inc.
---
Recensioni della gente
Impressione e revisione delle persone in iPhone App [Kik]!
Cambiare il registro
Aggiorna la cronologia di iPhone App [Kik]
We're always making updates to ensure the app is running as smoothly as possible for our users. As we add new features, we'll let you know about them right here.
Thanks for using Kik!
(c)Kik Interactive Inc.
dettagli
iPhone App [Kik] Altri dettagli
Produttore di vendite:Kik Interactive Inc.
Data di rilascio:2010-10-19
Versione:12.3.0
Prezzo:Gratis
Scaricare
Scarica il [Kik]@iPhone App
---
Articoli consigliati per te, scelti dall'IA di Google (intelligenza artificiale)!
---