MovieBuddy Pro
MovieBuddy Pro
---
MovieBuddy è una potente applicazione per la gestione dei film grazie alla quale puoi accedere al tuo catalogo completo, ovunque tu sia. Divertente e facile da usare, MovieBuddy ti permette di trovare rapidamente qualsiasi film nella tua libreria, di condividere i tuoi preferiti e di tenere traccia dei film che hai prestato.
FUNZIONALITÀ
* SINCRONIZZAZIONE INTEGRATA: Perfetta sincronizzazione con la libreria di MovieBuddy su tutti i tuoi dispositivi tramite iCloud o Dropbox. I tuoi dati vengono sincronizzati in modo che tu possa avere sempre la versione più aggiornata della tutta libreria su tutti i tuoi dispositivi iOS.
* ELEGANTE E FUNZIONALE: MovieBuddy ha un'interfaccia pulita e facile da usare.
* ALTE PRESTAZIONI: MovieBuddy supporta facilmente raccolte di film di grandi dimensioni. Alcuni dei nostri utenti gestiscono oltre 10.000 film!
AGGIUNTA IN UN SOLO PASSAGGIO: Puoi aggiungere film alla libreria di MovieBuddy scansionando semplicemente il codice a barre o cercando online.
* TIENI TRACCIA: Tieni traccia dei tuoi film per sapere sempre dove sono, a chi li hai prestati e quali hai preso in prestito tu.
* PERSONALIZZA: Crea categorie per organizzare i film, gestisci una lista dei desideri, contrassegna i tuoi preferiti per accedervi all'istante e aggiungi note personali su qualsiasi film.
* TROVA RAPIDAMENTE: Trova all'istante qualsiasi film nella libreria di MovieBuddy inserendo un termine di ricerca o scansionando il codice a barre del film.
* CONDIVIDI FACILMENTE: Condividi i tuoi film preferiti via Facebook, Twitter e e-mail. Puoi perfino esportare tutte le voci della libreria di MovieBuddy, o solo alcune di esse, in formati standard che colleghi e amici potranno visualizzare sul computer o su qualsiasi altro dispositivo.
* BACKUP AFFIDABILE: Tieni al sicuro i tuoi dati effettuando il backup dell'intera libreria nella nuvola con Dropbox. Se dovessi perdere il tuo iPhone, potrai ripristinare la libreria di MovieBuddy su qualsiasi dispositivo iOS, all'istante!
* IMPORTA DATI DI TERZE PARTI: Importa da altre app comuni per la gestione di cataloghi di film per tenere la tua libreria di MovieBuddy sempre aggiornata.
* E TANTO ALTRO: Assegna diverse tag ai film, ordinali in base al campo che preferisci, organizzali in serie, gestisci lo stato di visualizzazione di ogni film, stampa facilmente informazioni su film selezionati utilizzando stampanti AirPrint e tantissimo altro!
FEEDBACK
Ci teniamo molto a restare in contatto con i nostri utenti e non vediamo l'ora di sentire la tua opinione! Se hai commenti, domande o dubbi, contattaci via e-mail:
support@kimicoapps.com
o visita: http://www.kimicoapps.com/support.html
Seguici su Facebook:
http://www.facebook.com/KimicoLtd
---
Scaricare
Price:5,49 €
Scarica il [MovieBuddy Pro]@iPhone App
---
Valutazione presso il negozio iTunes
Valutazione di iPhone App [MovieBuddy Pro] all'archivio iTunes
versione più recente: (5 / 5)
Tutte le versioni: (4,5 / 5)
Numero di persone valutate:13
Prezzo:5,49 €
---
ScreenShots
Immagini di iPhone Apps [MovieBuddy Pro]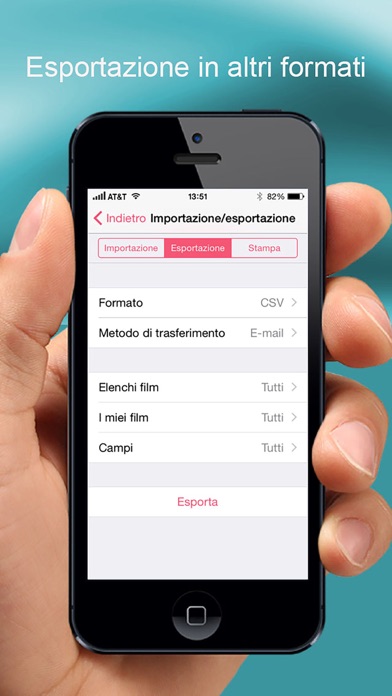 (c)Kimico, Ltd.
---
Recensioni della gente
Impressione e revisione delle persone in iPhone App [MovieBuddy Pro]!
Cambiare il registro
Aggiorna la cronologia di iPhone App [MovieBuddy Pro]
– Added FAQ link to the Settings page
(c)Kimico, Ltd.
dettagli
iPhone App [MovieBuddy Pro] Altri dettagli
Produttore di vendite:Kimico Ltd
Data di rilascio:2015-06-25
Versione:8.7.3
Prezzo:5,49 €
Scaricare
Scarica il [MovieBuddy Pro]@iPhone App
---
---