My Singing Monsters:DawnOfFire
My Singing Monsters:DawnOfFire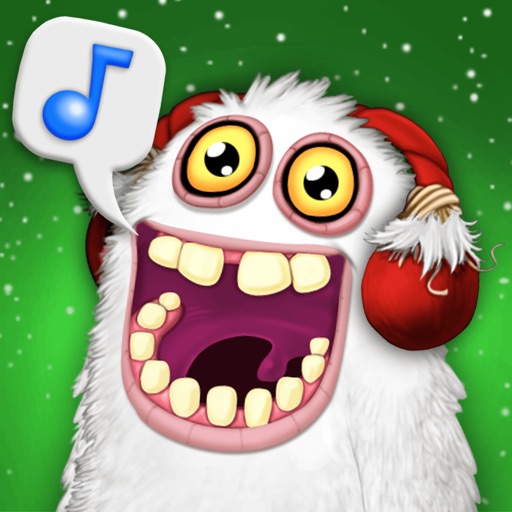 ---
Pensi di conoscere i tuoi Singing Monster? Ripensaci! Viaggia indietro nel tempo fino a quando i Singing Monsters hanno cantato per la prima volta e diventa testimone della gloriosa Dawn of Fire. Prova melodie orecchiabili, una grafica magnifica e un gioco intuitivo in questo eccitante prequel al gioco di successo per cellulare.
~ My Singing Monsters: Dawn of Fire è ottimizzato per iPhone 5, iPad 3, iPad mini e iPod Touch 5G o modello più recente. Sfortunatamente, non possiamo garantire un'esperienza di gioco fluida su dispositivi precedenti. ~
CARATTERISTICHE:
Ogni mostro ha la sua voce!
Quando sbloccherai un adorabile personaggio, il suo stile unico si aggiungerà alla canzone. Alcuni mostri sono virtuosi della voce, mentre altri suonano strumenti sfolgoranti. Sarà una sorpresa quando l'uovo si schiuderà!
Dai da mangiare e fai crescere i tuoi mostri musicisti!
Vuoi far crescere la tua raccolta di Singing Monter? Facile! Dai da mangiare ai Mostri cose diverse unite insieme per crearne di nuove! Passa al livello successivo dando loro quello che amano e alleva la tua bizzarra orchesta.
Costruisci molti oggetti eccentrici!
Costruisci strutture importanti, raccogli risorse e diventa esperto nel nuovo sistema di costruzione! Impara le ricette per preparare quello che i Mostri potrebbero chiederti e aggiungi Decorazioni stravaganti per aggiungere un tocco personale.
Sblocca nuove aree e melodie orecchiabili!
Amplia i tuoi orizzonti oltre il Continente ed esplora le diverse meravigliose Isole Esterne. Ognuna ha una sua contagiosa melodia eseguita dai maestri della tua orchestra Singing Monter! Quante ce ne saranno mai da scoprire?
Goditi il periodo d'oro della musica mostruosa in My Singing Monsters: Dawn of Fire. Divertiti mostruosamente!
ATTENZIONE! Puoi giocare a My Singing Monsters: Dawn of Fire gratuitamente, ma ci sono anche degli oggetti di gioco da poter acquistare. Se non vuoi usare questa funzione, accedi alle impostazioni del tuo dispositivo e disattiva gli acquisti In-App. My Singing Monsters: Dawn of Fire richiede una connessione Internet (3G o WiFi) per giocare.
ASSISTENZA & SUPPORTO: Visita il sito www.bigbluebubble.com/support, oppure contattaci nel gioco dalla sezione Opzioni > Supporto.
---
Scaricare
Price:Gratis
Scarica il [My Singing Monsters:DawnOfFire]@iPhone App
---
Valutazione presso il negozio iTunes
Valutazione di iPhone App [My Singing Monsters:DawnOfFire] all'archivio iTunes
versione più recente: (5 / 5)
Tutte le versioni: (4,5 / 5)
Numero di persone valutate:184
Prezzo:Gratis
---
ScreenShots
Immagini di iPhone Apps [My Singing Monsters:DawnOfFire]

(c)Big Blue Bubble
---
Recensioni della gente
Impressione e revisione delle persone in iPhone App [My Singing Monsters:DawnOfFire]!
Cambiare il registro
Aggiorna la cronologia di iPhone App [My Singing Monsters:DawnOfFire]
Una specie antica dei tuoi amati Singing Monster è stata scoperta sul Continente: sono le Rocciofonie. Le Rocciofonie non chiedono altro che di poter suonare in compagnia, e si troveranno certamente a loro agio sul Continente!
Novità dell'aggiornamento:
• Nuovo Mostro: Rocciofonia, il mostro quadri-elementale!
• Il Territorio del Freddo hanno subito un restyling di festa, e ha ispirato diversi mostri a fare altrettanto!
• Risoluzione di bug e ottimizzazioni
Grazie per il tuo supporto, e Divertiti mostruosamente!
(c)Big Blue Bubble
dettagli
iPhone App [My Singing Monsters:DawnOfFire] Altri dettagli
Produttore di vendite:Big Blue Bubble
Data di rilascio:2015-09-15
Versione:1.15.1
Prezzo:Gratis
Scaricare
Scarica il [My Singing Monsters:DawnOfFire]@iPhone App
---
---