Restaurant DASH: Gordon Ramsay
Restaurant DASH: Gordon Ramsay
---
UNISCITI A GORDON RAMSAY SULLA VIA VERSO IL SUCCESSO CULINARIO… E NON SOLO!
Viaggia per il mondo e affina le tue abilità in ristoranti unici con il tuo mentore Gordon Ramsay! Crea il tuo impero della ristorazione!
AFFRONTA ALTRI GIOCATORI ONLINE!
Metti a punto una strategia e sfoggia le tue abilità culinarie per affrontare altri giocatori o i tuoi amici per scalare le classifiche!
SCEGLI IL LOOK DEL TUO CHEF!
Crea il look del tuo chef con il nuovo sistema di avatar, mai visto finora in un gioco DASH!
BATTAGLIE CON FAMOSI CHEF BOSS!
Hai la stoffa per competere con i migliori? Affronta Gordon Ramsay e altri chef nelle nuove battaglie con il boss!
OTTIENI E SCAMBIA OGGETTI CON RICETTE MIGLIORI!
Migliora le tue ricette per ricevere ricompense più preziose collezionando oggetti rari e unici nel corso del gioco!
Gordon Ramsay DASH including Restaurant DASH with Gordon Ramsay © 2016 – 2017 Glu Mobile Inc. All rights reserved.
Restaurant DASH, DASH, Gordon Dash, Gordon Ramsay Dash, Glu, the "G-Man" Logo, Flo, and her appearance are the trademarks or registered trademarks of Glu Mobile Inc. in the United States and/or in other jurisdictions.
Likeness, voice and images of Gordon Ramsay provided under license by Humble Pie Media Limited for Studio Ramsay. All rights reserved.
NOTA BENE:
– Questo gioco è gratuito, ma puoi acquistare alcuni oggetti aggiuntivi pagando con soldi veri. L'importo sarà addebitato sul tuo account iTunes. Puoi disattivare gli acquisti in-app modificando le impostazioni del tuo dispositivo.
– Gioco non adatto per i bambini.
– Effettua acquisti con moderazione.
– In questo gioco sono presenti messaggi pubblicitari.
– Questo gioco potrebbe consentire ai giocatori di interagire tra loro, per esempio tramite chat room, chat private o messaggistica, in base alla disponibilità di tali funzionalità. I collegamenti ai siti di social network non sono adatti ai soggetti che violano i regolamenti applicabili di tali siti.
– Per giocare è richiesta una connessione di rete.
– Per informazioni sulla raccolta e l'utilizzo dei dati personali da parte di Glu, consultare la nostra informativa sulla privacy all'indirizzo: www.Glu.com/privacy
– In caso di problemi con questo gioco, utilizzare la funzione di aiuto all'interno del gioco stesso.
---
Scaricare
Price:Gratis
Scarica il [Restaurant DASH: Gordon Ramsay]@iPhone App
---
Valutazione presso il negozio iTunes
Valutazione di iPhone App [Restaurant DASH: Gordon Ramsay] all'archivio iTunes
versione più recente: (4,5 / 5)
Tutte le versioni: (4,5 / 5)
Numero di persone valutate:2622
Prezzo:Gratis
---
ScreenShots
Immagini di iPhone Apps [Restaurant DASH: Gordon Ramsay]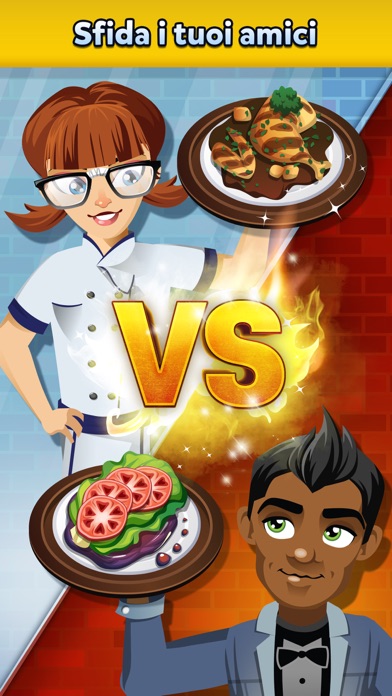 (c)Glu Games Inc
---
Recensioni della gente
Impressione e revisione delle persone in iPhone App [Restaurant DASH: Gordon Ramsay]!
Cambiare il registro
Aggiorna la cronologia di iPhone App [Restaurant DASH: Gordon Ramsay]
– Stabilità migliorata
– Bug risolti
(c)Glu Games Inc
dettagli
iPhone App [Restaurant DASH: Gordon Ramsay] Altri dettagli
Produttore di vendite:Glu Games Inc
Data di rilascio:2016-06-27
Versione:2.6.9
Prezzo:Gratis
Scaricare
Scarica il [Restaurant DASH: Gordon Ramsay]@iPhone App
---
---