Solitario ∙
Solitario ∙
---
Solitario è la versione classica per iPhone, iPod Touch o iPad, del gioco del Solitario conosciuto anche con il nome di Solitario Klondike!
NUOVE FUNZIONI
– Modalità Esperto: Gioca a Solitario senza suggerimenti o aiuti.
– Personalizza la tua partita con nuove carte e tavoli!
– Ricco di nuove statistiche per analizzare le tue partite!
– Premium in-app tutto nuovo, con carte e tavoli da gioco esclusivi!
Scoprite una versione davvero completa e divertente del gioco del solitario ed unitevi alle migliaia di giocatori che sono già diventati fan del solitario!
-"Eccellente! La migliore app solitario dell'Appstore!"
-"La modalità Solitario Vegas è veramente coinvolgente, io ci gioco per delle ore! E l'app è veramente bella"
DIVERSE MODALITÀ DI GIOCO DEL SOLITARIO
– Modalità Standard o Vagas
– Girate una carta o tre carte
– Gioca in modalità Esperto, senza suggerimenti durante la partita
– Modalità orizzontale o verticale
– Solitario destrimano o mancino
FUNZIONALITÀ INDISPENSABILI PER UN SOLITARIO
– Personalizza le tue carte e tavoli
– Statistiche dettagliate
– Le partite del solitario vengono salvate automaticamente
– Potete annullate i vostri movimenti tutte le volte che volete
– Aiuto intelligente "Smart Solitaire"
– Nessuna interferenza audio tra il solitario e l'iPod
GIOCABILITÀ OTTIMIZZATA
– Trascinate e spostate le carte come volete
– Toccate una carta per spostarla automaticamente
– Fine automatica per terminare la partita del solitario
---
Scaricare
Price:Gratis
Scarica il [Solitario ∙]@iPhone App
---
Valutazione presso il negozio iTunes
Valutazione di iPhone App [Solitario ∙] all'archivio iTunes
versione più recente: (4,5 / 5)
Tutte le versioni: (4,5 / 5)
Numero di persone valutate:5328
Prezzo:Gratis
---
ScreenShots
Immagini di iPhone Apps [Solitario ∙]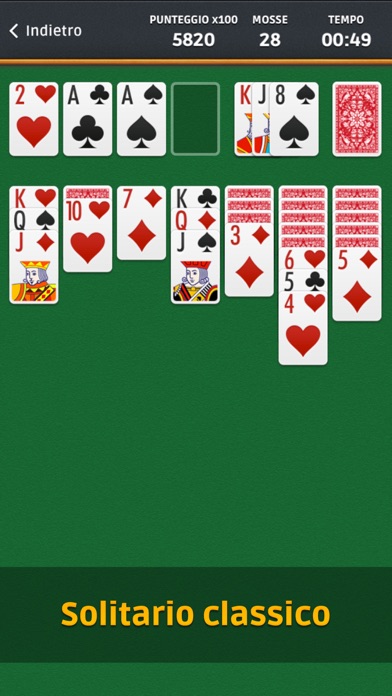 (c)Green Panda Games
---
Recensioni della gente
Impressione e revisione delle persone in iPhone App [Solitario ∙]!
Cambiare il registro
Aggiorna la cronologia di iPhone App [Solitario ∙]
To consistently improve the game experience, we have also fixed minor bugs and optimized the game engine.
Thank you for playing our game! We love to hear feedback from our players. If you're enjoying our game, please give us 5 stars, it will help us a lot. If you encounter any problem regarding this app, please feel free to contact us at support@greenpandagames.com.
(c)Green Panda Games
dettagli
iPhone App [Solitario ∙] Altri dettagli
Produttore di vendite:GREEN PANDA
Data di rilascio:2013-06-26
Versione:3.5.5
Prezzo:Gratis
Scaricare
Scarica il [Solitario ∙]@iPhone App
---
---