Toon Blast
Toon Blast
---
BENVENUTO ALLA PIÙ DIVERTENTE AVVENTURA PUZZLE IN STILE CARTOON!
Dai creatori di Toy Blast, l'avventura puzzle definitiva con un sistema di gioco unico e divertimento illimitato!
Entra nel folle mondo dei cartoni con i protagonisti Cooper Micio, Wally Lupo, Bruno e Orso e divertiti con tantissimi livelli entusiasmanti e originali! Fai esplodere i cubi creando potenti combinazioni per superare i livelli. Risolvi i puzzle e aiuta la banda dei Toon viaggiando attraverso magici mondi!
Partecipa alle avventure più folli della tua vita… con un BLAST!
CARATTERISTICHE:
● Supera tantissimi livelli entusiasmanti e sblocca nuovi episodi!
● Divertiti con obiettivi di gioco unici e tanti ostacoli appassionanti!
● Sblocca potenziamenti originali e apriti la strada verso il livello successivo!
● Raccogli le stelle completando i livelli per vincere fantastiche ricompense!
● Crea la tua squadra e gareggia con le altre per conquistare il mondo dei puzzle!
● Fatti inviare delle vite dai tuoi compagni di squadra per continuare a giocare!
● Puoi sincronizzare facilmente il gioco tra telefono e tablet!
● È facile e divertente da giocare, ma sempre stimolante!
---
Scaricare
Price:Gratis
Scarica il [Toon Blast]@iPhone App
---
Valutazione presso il negozio iTunes
Valutazione di iPhone App [Toon Blast] all'archivio iTunes
versione più recente: (4,5 / 5)
Tutte le versioni: (4,5 / 5)
Numero di persone valutate:22064
Prezzo:Gratis
---
ScreenShots
Immagini di iPhone Apps [Toon Blast]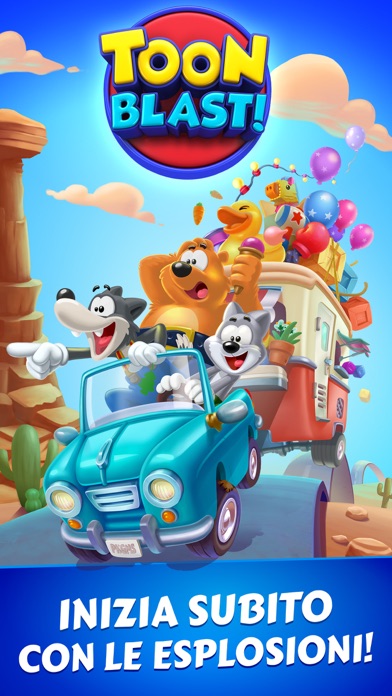 (c)Peak Games
---
Recensioni della gente
Impressione e revisione delle persone in iPhone App [Toon Blast]!
Cambiare il registro
Aggiorna la cronologia di iPhone App [Toon Blast]
It's time for a festive new update!
– PLAY 50 NEW LEVELS! Put on the elegant masks and traditional costumes, we will attend to The Carnival of Venice! Hop on a Gondola, and get ready for romantic moments, while boatman rows you through the lovely Venetian Canals.
Be sure to update to the current version of Toon Blast for the newest content. In every 2 weeks, we bring 50 NEW LEVELS! Come and join the fun!
(c)Peak Games
dettagli
iPhone App [Toon Blast] Altri dettagli
Produttore di vendite:Peak Games
Data di rilascio:2017-08-15
Versione:2800
Prezzo:Gratis
Scaricare
Scarica il [Toon Blast]@iPhone App
---
---