Unblock Me
Unblock Me
---
Unblock Me è un puzzle game semplice ed entusiasmante. L'obiettivo è far uscire il blocco rosso dalla superficie di gioco facendo scivolare gli altri blocchi e utilizzando il minor numero di mosse. Unblock Me prevede 4 livelli di difficoltà, da Principiante a Esperto. Offre un totale di 16.200 rompicapi: si tratta del numero più alto di rompicapi mai previsti da un gioco, che ti terranno incollato centinaia di ore in un clima di sfida.
Grazie alle due modalità di gioco di Unblock Me, potrai sfidare te stesso oppure scegliere di rilassarti e risolvere i rompicapi. Nella Modalità Sfida ciascun puzzle prevede 3 stelle: potrai dunque riprovare a giocare per ottenere tutte le 3 stelle offerte da ogni rompicapo. La sfida è resa ancora più avvincente dalla presenza della classifica e dei trofei.
Unblock Me è stato adottato in molte scuole per favorire e migliorare lo studio a lezione. Unblock Me può aiutarti a tenere allenata e 'in forma' la mente, ogni giorno. Da 5 anni è tra i giochi gratuiti più scaricati e ha fatto da apripista ad altri giochi inaugurando il genere dei puzzle game 'Unblock'. Il gioco si rivolge a bambini e adulti di ogni età: potrai giocare da solo oppure decidere di sfidare i tuoi amici mettendo a confronto le tue mosse. Metti in campo il tuo ingegno e divertiti con gli amici 🙂
Caratteristiche:
* Modalità multigiocatore: gioca a Unblock Me sfidando i tuoi amici o compagni Unblockers in tutto il mondo
* Puzzle giornalieri: quando apri il gioco, Unblock Me ti propone ogni giorno nuovi rompicampo
* Ricompense giornaliere: hai bisogno di altri suggerimenti? Nessun problema, ottieni fino a 2 suggerimenti al giorno semplicemente aprendo Unblock Me
* Sincronizza o trasferisci i tuoi progressi di gioco tda un dispositivo all'altro utilizzando l'account di Apple iCloud
* 4 livelli di difficoltà, da Principiante a Esperto
* Un totale di 16.200 rompicapi stile "Unblock": ti attendono ore e ore di gioco per completare tutti gli avvincenti rompicapo
* Due modalità di gioco: Modalità Relax e Modalità Sfida
* Presenza della Classifica per rendere il gioco ancora più avvincente e invitarti a trovare la soluzione migliore
* 21 Trofei: prova a raccoglierli tutti
* Tieni traccia dei rompicapi risolti
* Previsti indizi che ti guideranno nella risoluzione del rompicapo
* Acquisti In-App: potrai acquistare altri indizi in caso di necessità
* Funzione Annulla
* Ore e ore di divertimento! Con questo gioco ultra-avvincente andrai sul sicuro, ha già registrato milioni di download
Assistenza:
in caso di problemi tecnici, inviaci un'e-mail all'indirizzo support@kiragames.com.
Ricordati di specificare la versione dell'app, informazioni sul dispositivo utilizzato e, se possibile, uno screenshot.
Più informazioni ci invierai, migliore sarà il nostro servizio di assistenza. Grazie.
Seguici su Twitter!
@kiragames
http://twitter.com/kiragames
Metti 'Mi piace' su Facebook!
http://facebook.com/kiragames
Per ulteriori informazioni visita il nostro sito!
http://www.kiragames.com
---
Scaricare
Price:Gratis
Scarica il [Unblock Me]@iPhone App
---
Valutazione presso il negozio iTunes
Valutazione di iPhone App [Unblock Me] all'archivio iTunes
versione più recente: (5 / 5)
Tutte le versioni: (3,5 / 5)
Numero di persone valutate:3505
Prezzo:Gratis
---
ScreenShots
Immagini di iPhone Apps [Unblock Me]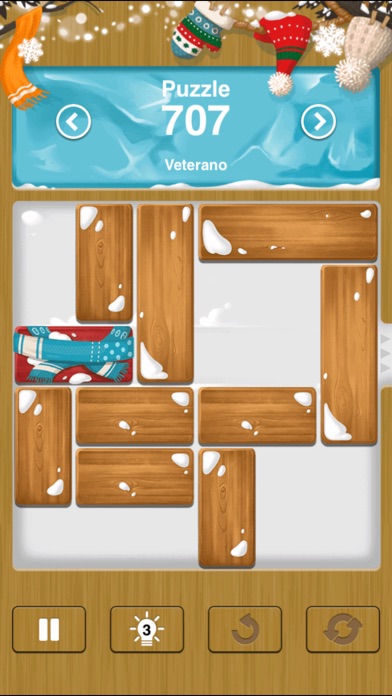 (c)Kiragames Co., Ltd.
---
Recensioni della gente
Impressione e revisione delle persone in iPhone App [Unblock Me]!
Cambiare il registro
Aggiorna la cronologia di iPhone App [Unblock Me]
This update includes a number of bug fixes and stability improvements.
– Fix the crash after data sync
– Fix the freezing block
– Fix the number of moves that changes when transferring data to another device
– Decrease the sound volume when solving a puzzle
– Minor improvements
What features do you want to see from Unblock Me in our next update? Please let us know!! 🙂
Send us your feedback and suggestions to support@kiragames.com. Thank you for your support!
(c)Kiragames Co., Ltd.
dettagli
iPhone App [Unblock Me] Altri dettagli
Produttore di vendite:Kiragames Co., Ltd.
Data di rilascio:2009-05-16
Versione:1.6.04
Prezzo:Gratis
Scaricare
Scarica il [Unblock Me]@iPhone App
---
---