Videoshop – Editor video
Videoshop – Editor video
---
Facile da usare! Molto veloce! Molti effetti speciali!
CARATTERISTICHE:
1. Ritagliare video – Togliere le parti del tuo video!
2. Combina il tuo Video – Combinare molte clip in uno!
3. Aggiungi musica – Utilizzare le canzoni dal vostro iPod!
4. Aggiungi effetti sonori – Scegli tra tanti suoni come scoregge, esplosioni, pubblico
risate, e di più!
5. Modifica velocità il video – Creare video al rallentatore, o movimento veloce!
6. Aggiungere titoli – Introdurre i vostri video con titoli animati! Diventa un reporter di notizie o
un cantante con un video musicale!
7. Aggiungere filtri – Seleziona da diversi filtri per migliorare i tuoi video!
8. Aggiungere transizioni – Inserire diverse transizioni animate tra i clip video da
creare uno slideshow incredibile!
9. Registrazione di video – Registrare nuovi video utilizzando la fotocamera all'interno della app!
10. Condiviso su Facebook, YouTube, o e-mail – rendering veloce per condividere!
---
Scaricare
Price:Gratis
Scarica il [Videoshop – Editor video]@iPhone App
---
Valutazione presso il negozio iTunes
Valutazione di iPhone App [Videoshop – Editor video] all'archivio iTunes
versione più recente: (0 / 5)
Tutte le versioni: (4,5 / 5)
Numero di persone valutate:923
Prezzo:Gratis
---
ScreenShots
Immagini di iPhone Apps [Videoshop – Editor video]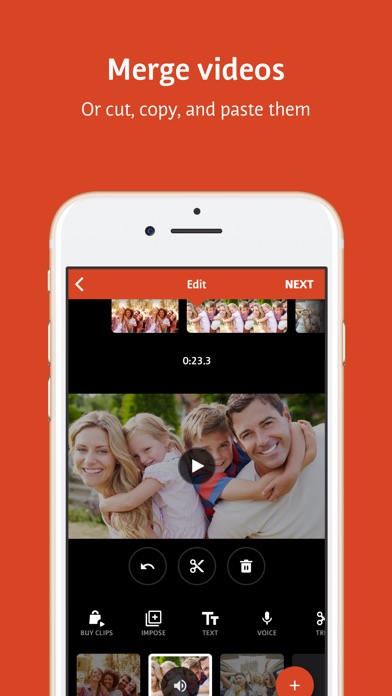 (c)Appsolute Inc.
---
Recensioni della gente
Impressione e revisione delle persone in iPhone App [Videoshop – Editor video]!
Cambiare il registro
Aggiorna la cronologia di iPhone App [Videoshop – Editor video]
Major Upgrades
1) Videoshop is now FREE to download! Old users get grandfathered into Pro status!
2) Dynamic Volume: Adjust the clip's volume anywhere on the timeline!
3) Animated Text: Select from several possible animations!
4) Timeline Markers: To easily edit for different social media videos! Check the Settings tool.
5) Camera: 4k resolution is now supported for Pro users!
6) Theme: New "Counter" theme added!
7) Save: Now you can slice your videos for Instagram stories, FB stories, etc!
8) Collab app: Check out our supplement app: "Collab – Parallel Video Editor"
Minor Upgrades
1) Moved the Undo and Delete button for easier interfacing
2) Tilt Shift: Added 'mirror' option
3) Save: Option for 60fps now available
4) Fixed volume previewing
5) Bug fixes and performance improvements.
Publishers and Business Development can reach me at joe@videoshop.net
Marketing and Advertising can reach us at marketing@videoshop.net
(c)Appsolute Inc.
dettagli
iPhone App [Videoshop – Editor video] Altri dettagli
Produttore di vendite:Appsolute Inc.
Data di rilascio:2013-06-06
Versione:7.3.1
Prezzo:Gratis
Scaricare
Scarica il [Videoshop – Editor video]@iPhone App
---
---