Wartide: Heroes of Atlantis
Wartide: Heroes of Atlantis
---
Wartide: Heroes of Atlantis introduce un sistema di dispiegamento in battaglia innovativo e profondo. Disponi le tue armate al meglio per insidiare il nemico e prendi i comandi dei tuoi eroi per dargli il colpo di grazia.
Evoca una varietà di eroi che spazia da guerrieri leggendari a stregoni mistici, assembra le tue armate e riconquista l'antico regno di Atlantide. Difendi la tua cittadella dagli attacchi, affronta online leader da tutto il mondo e forgia potenti alleanze per distruggere nemici comuni.
CARATTERISTICHE
● Calati nell'originale ambientazione fantasy di Nuova Atlantide
● Sfrutta potenti eroi e stregoni per annientare i nemici
● Forma le tue armate scegliendo fra un ventaglio di potenti truppe ed eroi
● Sviluppa brillanti strategie di dispiegamento fra un'infinità di combinazioni possibili
● Vinci in battaglia per promuovere i tuoi eroi e sbloccare nuove abilità fantastiche
● Affronta giocatori online e sviluppa la tua reputazione
● Unisci le forze con altri giocatori per potenti alleanze
Attenzione: Wartide: Heroes of Atlantis è un titolo free to play, ma alcuni oggetti di gioco extra sono acquistabili con denaro reale. Per disattivare gli acquisti in-app, utilizza le impostazioni del dispositivo.
---
Scaricare
Price:Gratis
Scarica il [Wartide: Heroes of Atlantis]@iPhone App
---
Valutazione presso il negozio iTunes
Valutazione di iPhone App [Wartide: Heroes of Atlantis] all'archivio iTunes
versione più recente: (5 / 5)
Tutte le versioni: (4,5 / 5)
Numero di persone valutate:38
Prezzo:Gratis
---
ScreenShots
Immagini di iPhone Apps [Wartide: Heroes of Atlantis]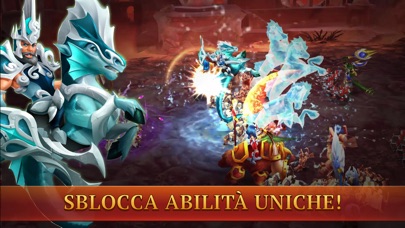 (c)Kongregate
---
Recensioni della gente
Impressione e revisione delle persone in iPhone App [Wartide: Heroes of Atlantis]!
Cambiare il registro
Aggiorna la cronologia di iPhone App [Wartide: Heroes of Atlantis]
* Questo aggiornamento include una stabilità ottimizzata e la risoluzione di alcuni bug.
(c)Kongregate
dettagli
iPhone App [Wartide: Heroes of Atlantis] Altri dettagli
Produttore di vendite:Kongregate, Inc.
Data di rilascio:2017-10-25
Versione:1.10.40
Prezzo:Gratis
Scaricare
Scarica il [Wartide: Heroes of Atlantis]@iPhone App
---
---